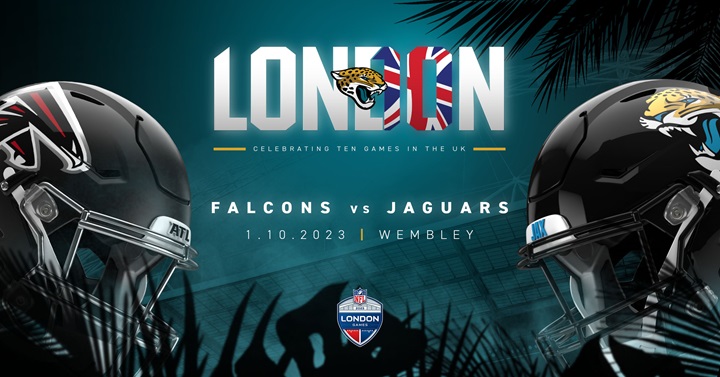 Atlanta Falcons v Jacksonville Jaguars: Fan guide
1 October 2023
NFL action returns to Wembley Stadium this autumn when the Jacksonville Jaguars take on Atlanta Falcons.
The Jags are returning for their tenth fixture under the arch with a record crowd expected once again. To ensure everyone gets the most out of the day, we have the following guidance. Strict adherence will ensure Wembley Stadium is a safe environment for everyone attending.
Travel
All those travelling to Wembley by National Rail should plan to arrive at Wembley stations early to allow sufficient time to walk to and enter the stadium.
Wembley Stadium benefits from easy access to three rail / London Underground stations. These are:
Wembley Stadium station – Chiltern Rail Services
Wembley Central station – Bakerloo Line & Overground services
Wembley Park station – Metropolitan and Jubilee lines
Please leave more time for your journey and plan ahead. Please check the National Rail Enquiries and TfL Updates on event day for real-time travel information and status updates.
NOTE: There are planned rail strikes on Saturday 30th September which will affect National Rail services. This will not affect event day services to / around Wembley Stadium on Sunday 1st October, however it is worth checking your journey before you travel on TfL and National Rail websites.
By Car
Event day parking at Wembley Stadium is limited and must be booked in advance via the Wembley Official Parking website. Please book early to avoid disappointment. Any vehicles which do not pre-book will not be granted access to the stadium car parks. Customers are advised to park via the official car parks only.
Blue badge parking is available for ticketholders with accessibility needs and this can also be booked directly through the Wembley Official Parking website. For any further accessibility requirements, please review Wembley Stadium's Access Information page, or visit the Guest support portal.
ULEZ has expanded
Wembley Stadium is now part of Transport for London's Ultra Low Emission Zone (ULEZ). For more information click here
By Coach
National Express is the official coach partner to Wembley Stadium. National Express drop off at the stadium from over 50 locations around the UK making it the easiest and most convenient way to travel to Wembley. For dedicated National Express services to Wembley visit the National Express website here or call 08717 81 81 81.
Stadium access
The game will kick off at 2.30pm. All doors (General admission and hospitality) will be open from 11.30am.
Make sure you arrive at the stadium in good time to assist with security protocols.

Please refer to your ticket for your turnstile colour zone. The quickest route to your turnstile entry point is by following the signage for the colour zone. Please ensure you enter via the correct turnstile.
For a detailed site map of the stadium please click here
Fan Zones
There will be three dedicated areas outside the stadium where fans can meet up with like minded NFL supporters and sample the match atmosphere, before and after the game.
AREA

LOCATION

ENTERTAINMENT

TIMINGS

The Jungle

Arena Square

Interactive games, Jags Merchandise,

10am-1.30pm

Closed post match

Beers n Bites

Green Car Park (south)

Food, big screen, bars (including alcohol)

10am-2pm

Open till 9.15pm post match

The Den

Stadium East Concourse

Food, alcohol, DJ

11am-1.30pm

Food only post-match
Restricted bag policy
Please note NFL operates its own bag policy that limits the size and type of bags that may be brought into stadium.
For more information about the NFL bag policy please visit here.
Items purchased from Duuuval Market must be either worn or kept sealed. A bag drop will be available adjacent to White Horse Square and at the bottom of the South East ramp of the stadium.
Merchandise – Duuuval Market
You will be able to purchase all your official NFL Merchandise at the Duuuval Market located in the Green Car Park (access from Engineers Way).
The market will be open from 10am- 2pm before the game and then for two hours post-game.
Other official merchandise stalls will also be located in the two fan zones (The Jungle and Beers n Bites) to the east and west sides of the stadium, and the stadium shop.
Please ensure you obtain a free, clear bag with any purchases to ensure smooth entry into the stadium. See bag policy above.
Wembley Park No-street-drinking zone
Since 2022 Brent Council, and its partners, have enforced a no-street-drinking zone on Olympic Way and the surrounding area for ALL events at Wembley Stadium. This is part of the current Public Space Order Protection in place around the stadium on event days. More information on the order can be found here.
Fans drinking on Olympic Way and the surrounding streets for any event will be asked to hand over their alcohol and enforcement action may be considered.
About Wembley Stadium
Cashless
Wembley Stadium is a cashless venue. Please be aware that NO kiosks will accept cash. Contactless & Card payments will only be accepted at al kiosks inside the stadium.
Guests with access requirements
Wembley Stadium is a welcoming and inclusive venue for all guests with access requirements. There are 310 places for wheelchair users, each with a personal assistant/companion seat. The stadium also provides a range of services for guests with specialist access requirements including a shuttle service from Wembley Park Station. More information can be found here.
Anti-social and discriminatory behaviour
Wembley Stadium operates a zero-tolerance policy on any form of anti-social and discriminatory behaviour. If you witness any anti-social or discriminatory behaviour on the day, text HELP to 66566 or contact your nearest steward.
Food and drink
Wembley Stadium offers an extensive range of food and drinks inside the stadium – more information is available here.
For the first hour of opening (11.30am-12.30pm) special offers will be available inside the stadium with Budweiser and Magners available for £5 a pint/can. The first 10,000 people through the door will also receive a commemorative Jags/Falcons Rally Towel.
Food and drink bought inside the stadium can be taken out into the bowl area for this event.
As part of a recent upgrade Wembley Stadium now also features two new M&S food stores inside the stadium. Situated on level 2 only, east and west, the two stores offer guests the traditional variety of options you can expect from a M&S food store. Find out more here
Guests on level 5 will also be able to access the new Terrace Bar, which opens for the first time at the stadium on Sunday, October 1.
Fans will also be able to access a variety of food and drink kiosks outside the stadium on our concourse areas prior to entry. These will be open from 10.00am.
Stay up to date with all of the latest event information by following @wembleystadium on Twitter.