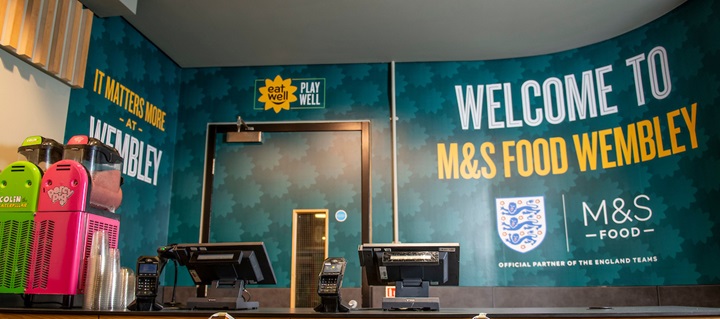 WEMBLEY STADIUM SIGNS STAR RETAILER M&S FOOD & OPENS ITS FIRST FOOD RETAIL STORES WITHIN THE STADIUM
M&S Food and Wembley Stadium connected by EE have teamed up to open not one, but TWO, Foodhalls within the venue.
The collaboration sees M&S Food become the first food retailer to operate inside the stadium. The two stores, which open today (Sunday 6th August) on level 2 of the stadium, will offer football fans and concert goers healthier food options when attending events at Wembley.
The opening of the stores is part of the national stadium's drive to offer healthier food choices to fans. It also aligns with M&S Food's commitment, through its Eat Well, Play Well partnership with The Football Association (The FA), to make healthier eating easier, inspiring, and more accessible for families through the power of football.
For the past year M&S Food has been working closely with The FA, and its international footballers, to offer healthy food and drinks to complement and supercharge their strict nutritional regimes. Now, it will be helping feed England fans too.
Former England internationals, Shaun Wright-Phillips and Faye White visited Wembley Stadium for a sneak preview. They officially opened the new stores, ahead of the Community Shield game between Arsenal and Manchester City. Shaun continues the Wright family love of M&S Food and Eat Well, with his dad Ian starring in the current Eat Well campaign live on our TV screens now.
Alex Freudmann, Managing Director, Food, M&S, said: "We're very proud of our Eat Well, Play Well partnerships with the home nations football associations, so when we had the opportunity to open these two stores within Wembley Stadium it was the next logical step for us.
"We're passionate about helping families eat healthier through our Eat Well range, and as a football fan myself I know how frustrating it can be to find healthy food options within grounds. Now visitors to Wembley Stadium can have more of a choice - more than 50 per cent of items on sale in our stores will be Eat Well, including sandwiches and hot items, while the rest will be M&S favourites that we all know and love. All will be the same great quality and value that you'd expect from M&S Food."
The two foodhalls are located on the east and western sides of level two, inside the stadium. This ensures supporters of both teams have the opportunity to try the Eat Well range, as well the other food options available.
Paul Scannell, Head of Hospitality at Wembley Stadium, added: "We're delighted to welcome our first external food retailer into the stadium. We are also thrilled that it's not just any retailer…… it's M&S Food.
"The move reinforces our commitment to innovate and improve Wembley Stadium so that we deliver the best possible fan experience. Around 50% of the products available will be from the M&S Eat Well range, complementing our own commitment to providing healthier food options for fans at Wembley Stadium."