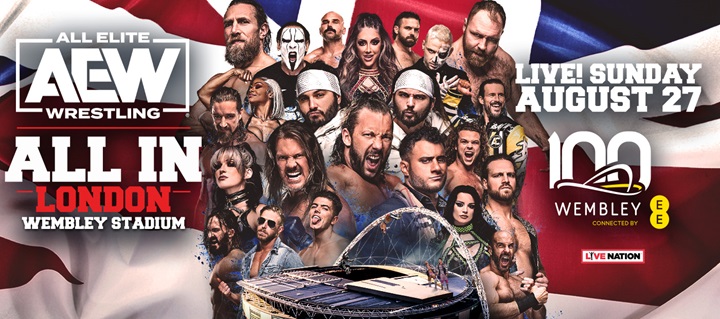 AEW ALL IN AT WEMBLEY STADIUM: All you need to know
AEW Wrestling All In London at Wembley Stadium
27 August 2023
Wembley Stadium is set to host professional wrestling, for the first time in over 30 years, with AEW's hugely anticipated debut show.
AEW has lined up a stellar cast of wrestlers for a record-breaking, action-packed show. To ensure everyone gets the most out of their visit we have the following advice. Strict adherence will ensure Wembley Stadium is a safe environment for everyone attending.
Travel
All those travelling to Wembley by National Rail should plan to arrive at Wembley stations early to allow sufficient time to walk to and enter the stadium.
London Underground
Wembley Stadium benefits from easy access to three rail / London Underground stations. These are:
Wembley Stadium station – Chiltern Rail Services
Wembley Central station – Bakerloo Line & Overground services
Wembley Park station – Metropolitan and Jubilee lines
NOTE: There are a number of other events taking place across London on Sunday, which will be ending at a similar time. On your journey home from Wembley Stadium, certain stations and tube lines are expected to be very busy, and you may not be able to get on the first train. It is likely to be very busy on the Bakerloo, Jubilee, and Metropolitan lines at Baker Street where you may have to wait, or there maybe short-term measures such as queuing or one-way systems in place.
Pleae leave more time for your journey and plan ahead. Please check the National Rail Enquiries and TfL Bank Holiday Updates on event day for real-time travel information and status updates.
STRIKE ACTION: RMT industrial action has also been announced for Saturday 26th August, affecting several train operating companies across the National Rail network. If you are travelling to London in advance of the show, please bear this in mind and plan your journey in advance. Whilst there is no industrial action on Sunday 27th August, we advise you to regularly check the National Rail and TfL websites for status updates to avoid any delays to your journey.
By Car
Event day parking at Wembley Stadium is limited and must be booked in advance via the Wembley Official Parking website. Please book early to avoid disappointment. Any vehicles which do not pre-book will not be granted access to the stadium car parks. Customers are advised to park via the official car parks only.
Blue badge parking is available for ticketholders with accessibility needs and this can also be booked directly through the Wembley Official Parking website. For any further accessibility requirements, please review Wembley Stadium's Access Information page, or visit the Guest support portal.
By Coach
National Express is the official coach partner to Wembley Stadium. National Express drop off at the stadium from over 50 locations around the UK making it the easiest and most convenient way to travel to Wembley. For dedicated National Express services to AEW ALL IN at Wembley visit the National Express website here or call 08717 81 81 81.
Stadium access
Doors open (including hospitality) open at 3.30pm. The show starts at 5.00pm and is expected to end around 10.00pm. Make sure you arrive at the stadium in good time to assist with security protocols.

Please refer to your ticket for your turnstile colour zone. The quickest route to your turnstile entry point is by following the signage for the colour zone. Please ensure you enter via the correct turnstile.
Anyone under the age of 14 must be accompanied by an adult 18 or over. No under 2's are permitted inside the stadium and no under 5's are permitted on the pitch for this event. This show contains pyrotechnic and strobe lighting effects throughout.
Merchandise
You will be able to purchase all your official AEW merchandise at various units along Olympic Way on Saturday (10am-6pm) and Sunday (11am-7pm). Merchandise will also be available on the external concourse on Sunday (1pm-10.30pm).
Please ensure you obtain a free, clear bag with any purchases to ensure smooth entry into the stadium. See bag policy below.
Weather
The weather forecast for next week is hot and sunny. Bring sunscreen and apply at regular intervals. Wear appropriate clothing and stay hydrated throughout the day.
Wembley Park No-street-drinking zone
Since 2022 Brent Council, and its partners, have enforced a no-street-drinking zone on Olympic Way and the surrounding area for ALL events at Wembley Stadium. This is part of the current Public Space Order Protection in place around the stadium on event days. More information on the order can be found here.
Fans drinking on Olympic Way and the surrounding streets for any event will be asked to hand over their alcohol and enforcement action may be considered.
About Wembley Stadium
Cashless
Wembley Stadium is a cashless venue. Please be aware that NO kiosks will accept cash. Contactless & Card payments will only be accepted at al kiosks inside the stadium.
Restricted bag policy
Wembley Stadium operates a restricted bag policy. Each person can only bring one small bag into the stadium, and it must not be bigger than A4 size:
Height – 297mm (11.7 inches) - Width – 210mm (8.27 inches) - Depth – 210mm (8.27 inches)
Please note, this means the overall bag size – bags that are half-full and folded over to reduce their size will not be accepted. Anyone carrying bags that do not meet the criteria above will not be allowed into the stadium.
Anyone who purchases merchandise outside the stadium will need to display it in a clear, plastic bag on entry into the stadium.
Prohibited items
Empty plastic reusable bottles are fine to bring into the stadium - these can then be filled at one of our free refillable water stations located inside the stadium. Please note, metal bottles will not be permitted inside the stadium.
Mobile phones and battery packs are also fine to bring into the stadium. For a full list of what you can and what you can't bring into Wembley click here.
Guests with access requirements
Wembley Stadium is a welcoming and inclusive venue for all guests with access requirements. There are 310 places for wheelchair users, each with a personal assistant/companion seat. The stadium also provides a range of services for guests with specialist access requirements including a shuttle service from Wembley Park Station. More information can be found here.
Anti-social and discriminatory behaviour
Wembley Stadium operates a zero-tolerance policy on any form of anti-social and discriminatory behaviour. If you witness any anti-social or discriminatory behaviour on the day, text HELP to 66566 or contact your nearest steward.
Food and drink
Wembley Stadium offers an extensive range of food and drinks inside the stadium – more information is available here. Food and drink bought inside the stadium can be taken out into the bowl area for this event.
As part of a recent upgrade Wembley Stadium now also features two new M&S food stores inside the stadium. Situated on level 2 only, east and west, the two stores offer guests the traditional variety of options you can expect from a M&S food store. Find out more here
Fans will also be able to access a variety of food and drink kiosks outside the stadium on our concourse areas prior to entry. These will be open from 11.00am.
Stay up to date with all of the latest event information by following @wembleystadium on Twitter.