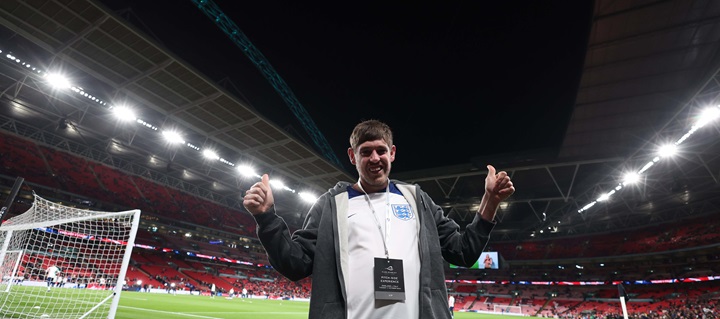 Wembley welcomes special group of football fans
Wembley Stadium welcomed a special group of football fans to this week's England v Italy fixture - all with very different reasons for attending.
Nathan West, was invited by the stadium team to attend the game after he received some online abuse earlier this year. The Norwich City supporter was targeted by trolls on social media following an interview he gave to a local news outlet.
However, the abuse Nathan received online was quickly drowned out by a show of support from football fans, players and clubs, who all praised Nathan for his love of the game. They even helped him raise an incredible £60,000 for a fundraising initiative he had organised – smashing his original target of £500.
The encouragement for Nathan included Wembley Stadium's social media team who reached out to Nathan and offered him two tickets to a match of his choice.
He watched England's 3-1 victory with his brother Troy. He said: "It has just been an amazing experience. I was given a tour of the ground before the game and got to go pitchside also.
"To see players like Harry Kane and Jude Bellingham perform was a dream. As a huge football fan, it was a night to remember."
Also among the sell-out crowd was a group of friends from Exeter. They completed an eight-day charity trek to the stadium for their friend, who was diagnosed with a brain tumour.
Luke Johnston, 35, was diagnosed with a rare brain tumour in March this year. The diagnosis came with a bleak prognosis with the average survival rate just 12-18 months. Only 25% of patients survive more than one year.
He hopes to benefit from a new treatment to prolong his life, but it is currently unavailable on the NHS. The treatment costs between £150,000-£250,000, and his friends came together to try and raise the money with a 'March to the Arch' from their home in Devon.
The group arrived at Wembley prior to kick-off. They raised £150,000 in the process and their story formed part of the pre-match entertainment.
Luke's close friend Joe Hibberd said: "Having an interview by the pitch with Luke's story going out to the whole of Wembley rounded off an amazing week.
"We walked over 195 miles and there were some very sore legs, but the support was amazing. We hit our target amount on the final day. It's been an emotional and humbling experience."
The evening under the arch was also a poignant one for Andre Cobb. He was visiting Wembley Stadium for the first time since July when he went to see Blur in concert. Unfortunately, Andre never got to see Blur perform that day as during the opening act he suffered a major haemorrhage.
He was treated by the stadium's medical team before he was rushed to hospital for emergency medical attention.
Thankfully, Andre survived the scary ordeal. Prior to kick-off he paid his thanks to the medical team at the stadium who helped save his life.
Andre said: "I don't remember much about what happened, but I was aware that I was surrounded by total competence. I felt like people knew exactly what they were doing and what needed to be done. It put me at ease like you wouldn't believe.
"I am just glad that I am back fit and healthy and that is all down to the team who helped me when I was here last. Their support and expertise in that situation means I can come to major events like this."