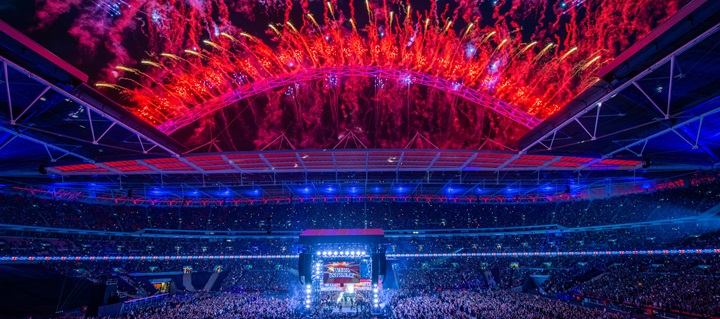 A summer of history making moments
More than one million people visited Wembley Stadium connected by EE this summer as the venue continued to create more history making moments.
Wembley Stadium is celebrating its 100th anniversary this year. Over the last century it has been home to some of the nation's biggest and most iconic events. Several more landmark moments landed this summer adding to the venue's illustrious history.
A record-breaking crowd attended AEW's All-In wrestling show recently. It was the first major wrestling event at Wembley since 1992, when the stadium hosted WWE's Summerslam event. Following its success, AEW immediately announced it would be returning to the venue in 2024 for another show.
Prior to that, pop sensation The Weeknd performed his After Hours Till Dawn show to 87,000 fans – breaking the record for ticket sales at Wembley Stadium with a traditional stage set-up.
Sports history was also made this summer. For the first time ever, this year's rugby league Challenge Cup Finals' Day featured the women's match, in a unique double header with the men's final. St Helen's women were the victors, beating Leeds Rhinos women 22-8.
Other notable moments that took place in the 13 events between June and August include:
- Manchester City winning the Emirates FA Cup Final on their way to a sensational treble
- Kylie Minogue making a guest appearance at Capital's Summertime Ball
- Harry Styles playing four consecutive nights to his biggest UK audience ever
- Blur performing two huge comeback gigs after seven years away
- Leigh Leopards claiming a first Challenge Cup Final victory for more than 50 years in the Men's rugby league Challenge Cup Final
Stadium Director, Liam Boylan said: "It's been a hugely successful summer that has offered something for fans of music, sport, and entertainment.
"We have had some of the biggest stars of pop, rock, indie and new wave all perform here, and it's been wonderful seeing such a diverse range of audiences.
"The screams at the Harry Styles' concerts were some of the loudest I have ever heard, and we are still finding pink feathers in every nook and cranny of the stadium!
"The two Blur shows were epic. It was like the summer of Britpop all over again and those gigs will live long in the memory of everyone who saw them.
"We were also able to see history being made with the men's and women's rugby league Challenge Cup finals played here for the first time ever."
Summer may have finished, but Wembley is now busy preparing for the next event to be held at the stadium. In October, it hosts an NFL fixture between Jacksonville Jaguars and Atlanta Falcons. It is expected to be one the biggest NFL matches ever in the UK and showcases the variety of different events that take place at the venue.
Liam added: "If you look back at Wembley's history you will see that it has always hosted a diverse range of sports including greyhound races, Gaelic football, hockey and even ski-jumping. So, it is rather fitting in our 100th anniversary year we have continued that trend.
"As the national stadium it is important, we put on events that appeal to a wide range of people, not just football fans."
In 2024 Wembley Stadium will host the UEFA Champions' League Final for a record eighth time. It will also be home to six nights of Taylor Swift's The Eras Tour, which is expected to be the highest grossing world tour by an artist ever.

Wembley Stadium's Summer in Numbers (June 1- August 31)
13 events
1 million tickets sold
Two new pitches installed
75,000 bottles of wine consumed
186,000 ice cold pints sank
34,000 cocktails sipped
33,300 hot dogs scoffed
14,000 nachos nibbled
58,000 chicken & chips devoured